Black-and-yellow Grosbeak flock electrify the forest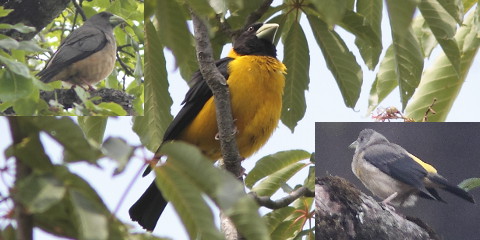 Musk Deer Sanctuary, 30&deg27'40&quotN 79&deg13'36&quotE, 2700 m (8880 ft), Uttarakhand, India.
17 June 2015 Chopta lies within the Kedarnath Wildlife Sanctuary of the Uttarakhand Himalaya. Many tourists / pilgrims throng this place and trek further up to Tungnath temple. The peaceful Musk Deer Sanctuary is a little ahead (~ 6 Kms) on the road to Mandal. Ananda and I parked our car on a small clearing by the road and patiently waited in silence at the spot day before marked by a young local birder. At around 12:40 in the afternoon the entire forest became alive with the distant calls of the Black-and-yellow Grosbeak (Mycerobas icterioides) which grew louder as they streamed into the area. The reverberating &quotTree-ti-toh ...Tree-ti-toh ...Tree-ti-toh&quot in the mountainous surrounding was amazingly mesmerizing. Their pitter-patter continued for 10-15 mins. A big group of 15 - 20 birds had flown down from the hills. After circling for a while the flock dispersed and Male-Female pairs perched on the higher tops of the Oaks, Fir and Spruce. Now the calls coming from various conifers seemed like a coordination chatter, evidently the birds formed a social group. The birds were inspecting the area and gradually it became very quiet. Silently the birds flew to our right and descended to lower branches. From nowhere a few young birds joined them and started begging food from the adults in the usual way of flapping the wings and directing a gaping mouth. From the look of the juveniles it seems the Grosbeaks breed around last week of May. A few adult birds came down to the ground and moved about the undergrowth full of fallen twigs on the biodiversity rich grassy slope. Soon all of them disappeared. I have seen this handsome Grosbeak only in the higher Himalayas of moderately dense Kharsu (Silver Oak) forests in summers, though they are known to descend to 4000 ft in winters and sporadically to the foothills as well.
Driving directions New Delhi - Merrut Bypass - Mujaffarnagar Bypass - Haridwar - Rishikesh Bypass - Devprayag - Rudraprayag - towards Kedarnath - OOkhimath - Chopta
---
Yellow-eyed Pigeon
Columba eversmanni
They invariably rest during the heat of the day, and throughout the night, in mangoe topes, and if undisturbed keep to... more

---
Something fascinating
The amazing Lawrence's Thrush from the South American Amazonian forests is undoubtedly the world's best mimic. Listen to over 50 species mimicked, changing every 10 secs, by this one bird in a single span. Visit the xeno-canto page…
---
Buzz Index
(as on 15Sep2013)
Besra
Indian Bustard
Chopta
Demoiselle Crane
Desert N'al Park
Har Ki Doon
Desert Lark
Wood Sandpiper
Shillong
Cinereous Vulture
---
Birdpoints