Historical notes on Yellow-eyed Pigeon Columba eversmanni

Pls use the mousewheel to zoom in/out (Max 2X)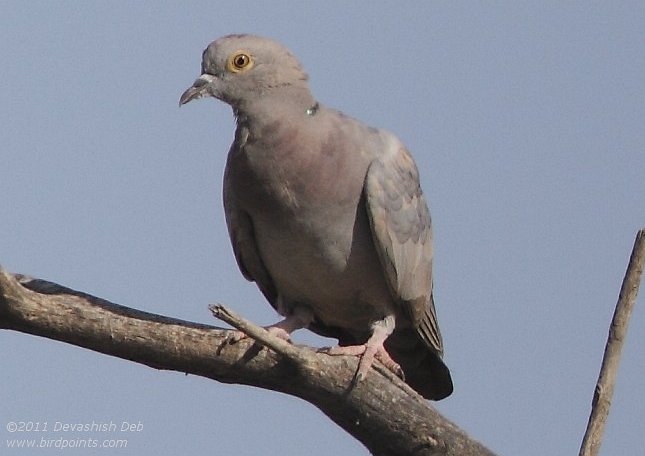 Yellow-eyed Pigeon, Columba eversmanni
Tal Chappar WLS, Churu District, Rajasthan, India on 14 October 2011
Birds trying to roost in the evening were seen in flocks - DD
Descr.: Dark ashy, with a whitish grey rump; crown and breast tinged with vinaceous; two or three black spots on the wings, forming the rudiments of bands, and the end of the tail black, its outermost feather white for the basal two-thirds of its exterior web, and showing a black, and then a narrow grey band towards its tip; beneath, the wings whitish.
Bill yellowish translucent; legs with a yellowish tinge; skin round the eye yellow; irides buff. Length 11.5 inches (292mm); extent 24 (610mm); wing 8 (203mm); tail 4 (102mm). Weight 7.5 oz (213gms).
They invariably rest during the heat of the day, and throughout the night, in mangoe topes, and if undisturbed keep to the same grove for days and even weeks together.

A Yellow-eyed Pigeon pauses before flying inside a nearby tree to roost