Pls use the mousewheel to zoom in/out (Max 2X)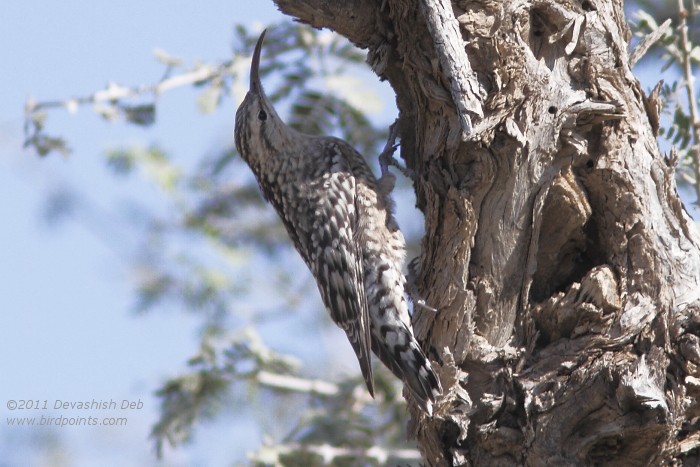 Indian Spotted Creeper, Salpornis spilonotus
probing the deep fissures of a Prosopis cineraria tree
Near Tal Chappar WLS, Churu District, Rajasthan, India
An Indian Spotted Creeper was spotted very near Tal Chappar Wildlife Sanctuary. Many thanks to SS Poonia, without his help the bird would have remained elusive.

A search in the dry desert...

Having failed to find the Spotted Creeper on 14th evening, we tried again on 15th afternoon. The place is a little beyond the designated sanctuary where we traversed an area crawling with Spiny-tailed Lizard, Uromastyx hardwickii. Here Common and Long-legged Buzzards perch on stumped tree tops scouring for an easy meal.

We moved a little further, now in an area infested with Indian Desert Jird, Meriones hurrianae. SS Poonia asked us to wait and look for the Creeper on the trunks of the Khejri trees, Prosopis cineraria on our right as he walked ahead scanning a larger group of Khejri. While we kept our fingers crossed, he slowly went out of sight. Soon, I got a call "please come", and I asked the fellow birders to hurry and approach SS Poonia cautiously.

So, finally there it was, about three metres from the ground probing the deep fissures of a Prosopis cineraria tree trunk. The bird has the 'Old World' looks and seemingly prefers the open woodlands of hot and dry desert, but the behaviour was much similar to the Himalayan Treecreepers: allowing a close approach, flying off to the lower level of a nearby tree, and working its way up in a spiral.

After hopping a few trees it flew off swiftly to disappear among the Khejri far away.