Pls use the mousewheel to zoom in/out (Max 2X)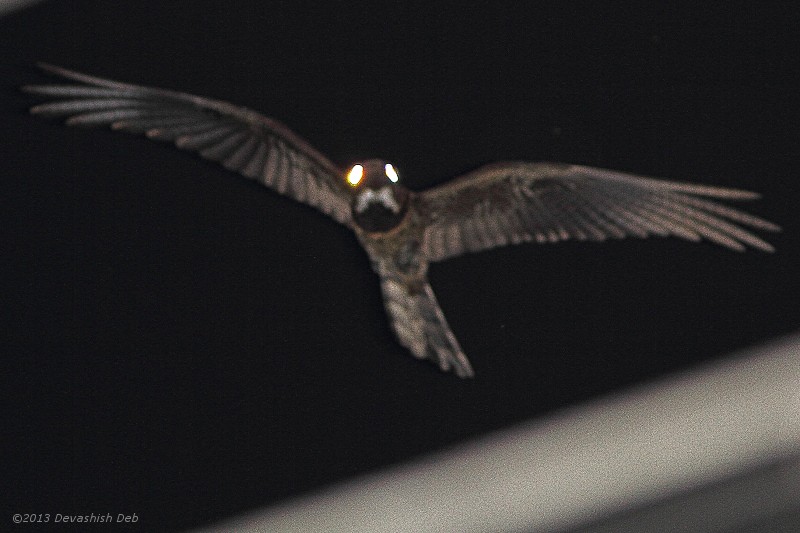 An almost impossible shot of the
Great Eared Nightjar, Eurostopodus macrotis
at Thattekad, Kerala, India
At Thattekad, 100m ahead of the wildlife warden's office for the Salim Ali Bird Sanctuary, I saw a pair of GENs after sunset, sallying back and forth across the two sides of the water body, at tree top-level. The birds appeared quite large, and identifiable by the lack of white in the wings and tail etc.

A shot in the dark...

Girish, the bird guide, warned, "It will be with us for just 5 mins, crosses overhead 6-7 times, and disappears".

Through the viewfinder I could see the bird far off circling for insects on the wing, then it turned and with a slow flutter started approaching us, but with a 420mm zoom it appeared to move in too fast, surely, I missed the shot.

I hurriedly dismounted the 1.4x tele-converter, imagining now that a 300mm should work.

On its second approach, the things were considerably darker, the silhouette was however still visible, but the auto-focus simply refused to stop hunting (oscillating). I could barely make out the Nightjar, and I misfired again.

Auto-focus won't work, it was clear. I switched to manual focus mode and adjusted the focus to the top of the nearby trees, hoping to guess a similar distance of the bird for a shot.

"Its coming back again" Girish hushed.

It was too dark now, nothing was visible through the viewfinder, I positioned myself, one eye through the viewfinder and the other open by the side of the camera to point in the right direction, the GEN however slowed down, hovered for a while and again started towards us. But no, it changed direction, its flying towards the overhead wires, "there is a gap through the wires" I consoled myself, the distance appeared right, wires or no wires - no way out, Fire ...

Er.. I mean a humble click.

This is one of the few photographic records of GEN from India.