Pls use the mousewheel to zoom in/out (Max 2X)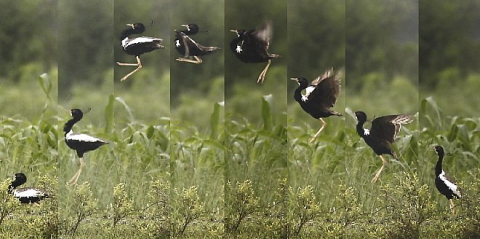 A Lesser Florican jumps and lands at the same spot
On a dark cloudy morning
at Sonkhaliya (~40 km from Ajmer), Rajasthan, India.
It rained whole night but fortunately the rains stopped for a few hours in the morning when we saw a few male Floricans (Lesser Florican, Sypheotides indicus). During the observation period the sky remained cloudy throughout.

This is a composite made of several images. Note that the bird (an adult male) jumps and lands back nearly at the same spot. Each jump lasts about a second and the smallest gap between leaps was 38 secs. The Floricans made all the jumps facing one direction only. We did not see any other male or female Florican in its vicinity. The Florican emitted the typical rapid clapping sound near the uppermost part of the jump trajectory.


A Jumping Display video of the first Florican
Driving directions New Delhi - Gurgaon (NH8) - Manesar - Bhiwadi - Bawal - Behror - Shahpura -Jaipur Bypass (NH8 cntd..) - Dudu - Kishangarh NH8(Night halt). Kishangarh NH8 - 79A - Nasirabad bypass - Turn left to Kota Rd. - 16 Km ahead is Sonkliya (or Shokaliya as in Google Maps)